D-Force is an educational program created by police, psychologists, students and educational designers to educate young people about the dangers of the drug Methamphetamine, and to help them protect themselves and their friends.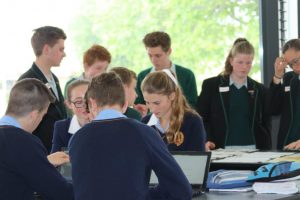 We welcome interest from the community, so if your question is not answered here, please feel free to contact us.
D-Force was started by two police officers who wanted to prevent the damage they saw happening in the community from Methamphetamine use. They gathered a group of specialists and community organisations to develop a program in conjunction with schools that would help to protect our kids from the drug Methamphetamine.
How the D-Force Program works
Working within schools, D-Force uses a student-led, games-based approach in classrooms to help young people understand:
the risks of taking the drug Methamphetamine
how to get help for themselves or someone they know know is at risk.
Why the D-Force Program works
The D-Force Program is effective because:
police, community experts, teachers and students consulted and collaborated to design the program
students are connecting with a real-life issue which may be directly affecting them, their peers or someone in their community
the students gain knowledge of real-life complexities in a safe environment
using a game is engaging for students
it puts students in the driver's seat, they are in charge, they have to find the solution
the process demonstrates to students that they can make positive changes in their world
there is both a competitive and collaborate element which helps to drive students engagement
it is underpinned by a proven teaching methodology.
What is included when we sign up as a school?
When schools sign-up to participate in the D-Force Program, they will receive access to the following online resources:
learning materials for lessons informing students about the drug Methamphetamine
a game designed by another school
a game kit so students can design their own game
Why use D-Force in schools?
South West Victoria and Barwon has the highest rate of treatment entry in Victoria for amphetamine use for 15 to 24 year olds.
The drug Methamphetamine is so much more addictive than any drug we've ever encountered before. Once it gets to the point of law enforcement, the damage is already done. So Victoria Police have joined together with the local council, schools, and businesses to work on preventing the harm in the first place.
We know that when criminals try to convince our kids to use the drug Methamphetamine, there is no caring adult around to protect them. If we don't inform them, the only source our children have is 'the word on the street'. And criminals know how savagely addictive this drug is, so they let the kids try it for free, knowing that the kids can be hooked with one try.
Through the D-Force Program, students:
learn to make positive choices and, if necessary, how to seek help
create a constructive dialogue with peers and teachers
develop verbal communication skills as they collaborate and work in teams
express ideas, opinions and facts & listen to other's ideas, opinions and facts
present information to a group
use initiative, creativity and innovate to find solutions for complex problems
use evidence & data to inform decision making
develop an understanding of how the design process is used to solve problems
investigate, analyse, develop, construct & reflect on a process
adopt a growth mindset, build resilience and show empathy.
Learning through a constructive process is more powerful than 'just giving the facts' to students because they own it. It has come from them and not adults. They are less likely to forget what they have learned and more likely to use knowledge they have constructed for themselves.
The teacher's role is to set up a learning environment that allows the students to collaborate and feel free to share ideas, make mistakes and iterate to develop a solution.
Through a constructive learning process:
students make personal constructions of reality
the work is done in authentic learning environments
students play with multiple representations of data
students are active and not passive in the learning process
students collaborate to make meaning.
Has the D-Force Program been trialled in schools?
In the initial D-Force trial, we worked with students from three schools to develop a games-based approach that engages kids in understanding the facts about the drug Methamphetamine, knowing how to seek help, and how to defend their friends.
The quality of the student engagement and thinking, when young people were the designers and leaders, is expressed in the following quotes we overheard from student discussions:
"Hang on, we can't have losers - we need to get everyone home safe. How can we redesign our game play so that we rescue people?"

"The Curiosity Zone sounds like the fun place, and the Safe Zone sounds boring. Curiosity isn't a bad thing. How can we show there's good curiosity and bad curiosity?"

"I guess it's about getting people to understand the risk / reward ratio."

- Student participants in D-Force
D-force and the Australian Curriculum
The D-Force program builds students' capacity and skills to complete studies aligned with the Australian Curriculum, and supports their growth and resilience beyond the classroom.
The D-Force program is designed to fit into, but not limited to, Learning Areas and General Capabilities in The Australian Curriculum at level 5 or years 7-8.
Learning areas
Health and Physical Education
General Capabilities
Personal and Social Capacity
Critical and Creative Thinking
Ethical Understanding
Register your school's interest in participating in the D-Force program by filling in the form below.